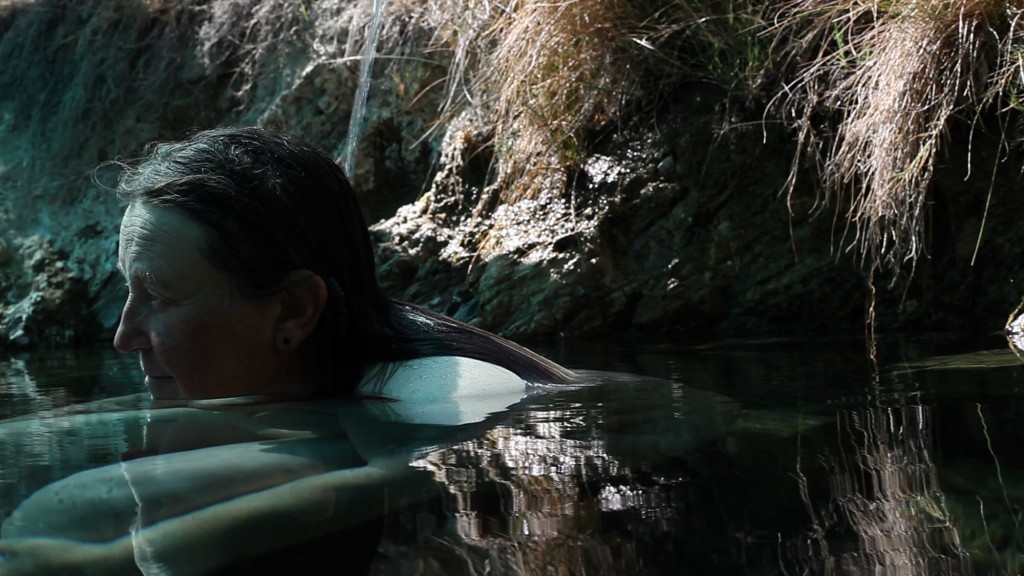 Brigid McCaffrey
Paradise Springs, 2013
Digital video still
33 minutes
Artists' Film International – Brigid McCaffrey
Curated by Laura Copelin
 Continuar leyendo en español …
Saturday, November 14
10 am – 6 pm Drop-in screenings of AFI international selections
7 pm Featured screening of short films by Brigid McCaffrey
Crowley Theater
Marfa, Texas
Sunday, November 15
1-3 pm Geology walk and conversation
Chihuahuan Desert Research Institute
Fort Davis, Texas
Organized in conjunction with Whitechapel Gallery, London, Ballroom Marfa is pleased to present the 2015 season of Artists' Film International, a program that showcases international artists working in film and animation. This year Ballroom Marfa will feature the work of Los Angeles-based filmmaker Brigid McCaffrey.
McCaffrey's recent films are set in landscapes that convey precarity and flux. Her approach to documentary focuses on environments and people in transition, and considers these subjects over long periods of time. These works meditate on the tension between individualism and community in the midst of unstable economic and ecological realities. Shaped by the process of portraiture, the films respond to the physical and emotional changes of their subjects, creating documents that fuse representations of self and place.
Ballroom Marfa will host a free screening of a selection of McCaffrey's work, including her 2013 film Paradise Springs, which follows Ren Lallatin, a geologist who studies the Mojave Desert. Lallatin traces its volcanic and seismic actualities; locates water sources and the relics of previous inhabitants; and identifies landscape features that will conceal her mobile shelter from public view. The film consists of a succession of roving soliloquies and terrain crossings as the wandering geologist describes her interactions with the natural world, while declaring her rejection of land regulation and privatization.
McCaffrey's films will be on view along with selections from the other international institutions of AFI 2015 at Marfa's Crowley Theater in an all-day series of looped screenings on Saturday, November 14, 2015. A conversation with McCaffrey and Lallatin will follow in the evening.
Activities will also include a conversation and outdoor geology walk lead by Lallatin and a local geology lecturer, Jesse Kelsch from Sul Ross State University. The walk/lecture will take place at the Far West Texas-based nonprofit Chihuahuan Desert Research Institute's land reserve and geology viewing area on Sunday, November 15. All of the events are free and open to the public.
Films screening as part of Saturday's AFI 2015 event include selections from the following institutions:
Belgrade Cultural Centre, Serbia
Centre for Contemporary Arts Afghanistan (CCAA), Kabul
Cinematheque de Tanger, Tangier
City Gallery, Kfar Saba
Fundacion PRÓA, Buenos Aires
GAMeC, Bergamo Italy
Hanoi DOCLAB, Hanoi
Istanbul Modern, Istanbul
Museum of Modern Art in Warsaw, Warsaw
National Centre for Contemporary Arts (NCCA), Moscow
Neuer Berliner Kunstverein, Berlin
Para/Site, Hong Kong
Project 88, Mumbai
Tromsø Kunstforening, Tromsø
Whitechapel Gallery, London
Brigid McCaffrey (b.1978) is a Los Angeles-based documentary and experimental filmmaker working in film and video. Her films have screened at various venues including BAFICI, Bradford International Film Festival, Cinema du Reel, DocLisboa, L'Alternativa, the Rotterdam International Film Festival, Torino International Film Festival, Other Cinema in San Francisco and the Los Angeles Filmforum. Her film Castaic Lake was awarded Best Cinematography at the Ann Arbor Film Festival in 2011. Paradise Springs received the Marian McMahon Award at Images Festival in 2014. She received an MFA in Film and Video from CalArts and a BA in Photography and Film from Bard College.
Rhyannon (Ren) Lallatin is a Buddhist Lama of Native American and Celtic ancestry. As a professor, Ren offered undergraduate and graduate courses in geology/geophysics, ecopsychology and Native American studies, and all of this woven together as a unified educational whole. An avid Mojave Desert gardener, ecosystem designer and herbalist, Ren thrives on the intelligent reciprocal relationship with the sentient, living earth and universe. Being transgendered, Ren uses that word to mean transcendent of gender. This indicates original wholeness not limited by dictates of culture or current embodiment.
Jesse Kelsch has studied and worked as a geologist in her favorite place, the American Southwest, since 1993. She has a BS in Geoscience from the University of Arizona and an MS in Earth and Planetary Science from the University of New Mexico. She worked as a hydrogeologist in New Mexico and West Texas until moving to Alpine, Texas in 2006. She now teaches geology at Sul Ross. Her goal in teaching is to get her students out of the classroom and into the field as much as possible, to encourage research among undergraduates, and to cultivate scientific inquiry among anyone she can. She is also the president of the Alpine Humane Society.
More images on the Ballroom Marfa website.